Bloobath Fightwear – They have produced my walkout tee and are supporting a lot of local Australian MMA fighters. A true asset for the MMA scene in Australia.
Langes Mixed Martial Arts – From day one i have trained at Langes MMA under head coach Anthony Lange and owe all my success in the MMA and BJJ arena to himself and all the other coaches and training partners who i have trained with. A great atmosphere and club culture makes it an honor to be a part of.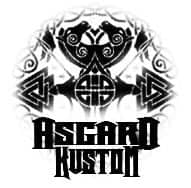 Asgard Kustom – Producing outstanding art
The Archaic Revival – Rock , Then Die !