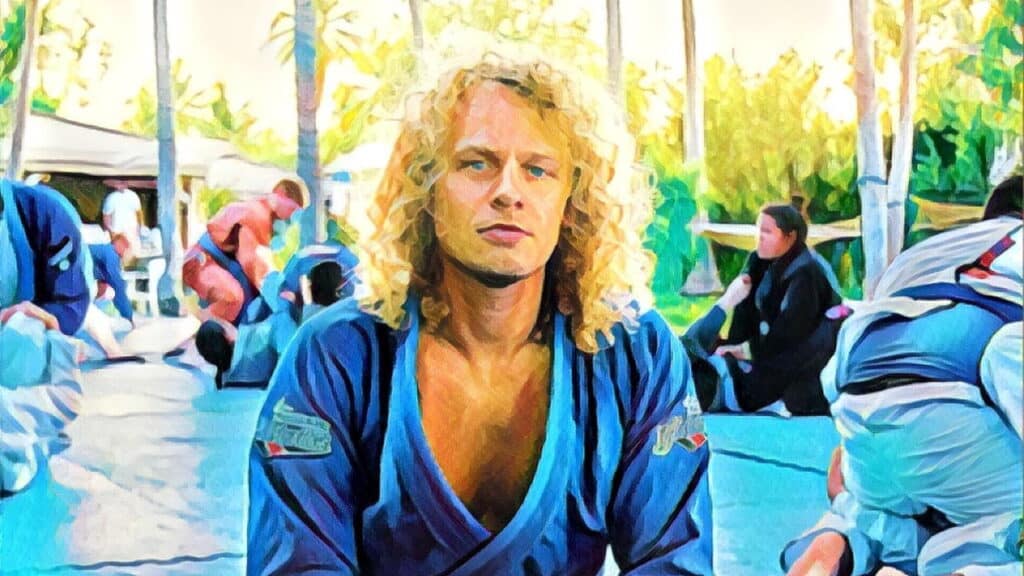 I talk to Christian Graugart, who is the founder of BJJ Globetrotters, a community that runs seminars & camps around the world that discourages jiu-jitsu politics. We discuss the role of tribalism in BJJ and the benefits of thinking outside the box.
Also, about how social recognition drives the need for many accomplishments, the recent issues with the IBJJF (International Brazilian Jiu-Jitsu Federation), where they became the largest affiliation in the world, and BJJ were banned, and some teaching and training tips.
Listen to Christian Graugart
YouTube
TOPICS
The Impetus Behind His Organization
He says that travelling was his impetus. Visiting so many academies, he realized any place you walk through the door, you might find your new best friend, and there's always some people that will dislike you.
Is Tribalism Good or Bad?
Tribalism is not necessarily a bad thing. It's a very healthy thing. But it can be misused like sometimes people build a relationship based on one person wanting something from the other. And this kind of relationship is very easy to make in Jiu-Jitsu because we often sign up for it, and there's a hierarchy. And we can climb it through hard work, as long as we maintain good relations with the person at the top. That's not a bad thing. But sometimes, that person at the top is not necessarily a nice person.
Why Is Social Recognition Necessary?
He asks to imagine a competition with no medals and no podium pictures. The pictures are on the podium for a reason, so that people can see that you went up in the hierarchy. What's the purpose of the medal? It's like proof that you won, and that's the same with a jiu-jitsu belt.
Imagine if no cameras were allowed. You'll feel like where is the point of achieving all this if you can't show people that I have been struggling in the mud.
The Instructor-Student Relationship
Christian says that very often, people tell him you cannot be friends with your students. You have to keep it very strict. And he always found that to be bullshit. He's never had any other relationship with his students and just been friends. For him, it's just mutual respect, and he doesn't need to be in a state of higher status. But that might not work for some people. Some people need 100% control to behave, while some need no control to behave well.
About Beltchecker.com
Beltchecker is just a way to automate the workload for IBJJF. It's built on an exploiting human urge for social recognition. It was made to do things right for the IBJJF. The website is currently at 15,000 registered users in 10 months and is entirely free to use. It funds itself through certificates and ID cards for verified profiles.
Ways of Making New Friends
Traveling and meeting so many people. He states, "I realized that no matter where I would go, I can become a good friend with someone I would like to hang out with. And the key for me has always been to treat every person I meet as a potential next best friend."
Key To Improving In Jiu-Jitsu
A key to improve in jiu-jitsu is getting exposed to a lot of different games. People can do that through competition. It's just kind of difficult to gather up enough minutes in competition, and it's costly to get like 300 competition minutes, which will take you years and tons of money. You can also do training in other academies or travel. But to expose yourself to many things, the important thing is to try to find common denominators of what you need to look for in defending or attacking. The more you can find common denominators in something, the easier it will be to deal with the stuff you don't know.
How Jiu-Jitsu Is Different From Other Sports
The only thing that makes Jiu-Jitsu different from other sports is invented degrees on black belts. In my opinion, it's like we've introduced two very distinct promotion systems, like Skill Wranglers. We use colour belts to brag about how jujitsu is authentic. You get the belts and have the true skill because this is based on competition, or at least in comparison with competing athletes.
Quotes from Christian Graugart
"It's just interesting how medals, or titles, or belts, can make humans do some quite wild things."
"There's no way you can ever learn everything in Jiu Jitsu. No matter how much you studied the game, there's always a ton of stuff that you will never know."
"Maybe it's not just staying alive, maybe it's important that you don't quit."
"If you see a problem or something that annoys you, then you just see the problem. But at the same time, you can also see an opportunity to try and come up with a different solution."
"It's so easy to tell other people to take initiative like someone should do something, or this should be done better."
"You can either just keep complaining, or you can try to change things."
"If you think something is annoying, or a problem, then probably other people do too. So if there's a solution, it's right there. You have to pick it up."
INTERVIEW TIMESTAMPS
[00:23] – Christain's Backstory
[04:29] – The impetus behind his organization BJJ Globetrotters
[06:43] – Jiu-Jitsu has started to exit Brazil
[07:49] – How Matt Thornton steered his journey and Chris Haueter's influence on him
[12:35] – Is the tribalism mentality necessary?
[14:48] – How social recognition impacts you and your family
[16:03] – Is social recognition a bad thing
[19:54] – The need for a boundary between instructor and student
[24:20] – The disadvantage of strict instructor-student relationship
[25:23] – The IBJJF and BJJ Globetrotters Association ban
[28:57] – About beltchecker.com
[36:25] – Tips to make friends in a new environment
[39:23] – His way of teaching Jiu-Jitsu to people
[43:25] – The key to improve in Jiu-Jitsu
[48:50] – What makes Jiu-Jitsu different from other sports
[52:01] – The worst thing you can ever do in jujitsu
[56:55] – A huge change in Jiu-Jitsu
[59:03] – The philosophy behind Globetrotters and Beltchecker
[01:02:10] – Politics in Jiu-Jitsu
[01:03:28] – The Cult of Done Manifesto
[01:04:48] – About the Globetrotters YouTube channel
RESOURCES FOR CHRISTIAN GRAUGART
http://www.christiangraugart.com/